- all your thoughts on all your devices -
about maxamind
save and retrieve all of your thoughts whenever and wherever you are
WHAT WE DO
The maxamind app provides a single place to store and manage all of your important thoughts, tasks and ideas. Track the next actions for your projects. Record the notes from your meeting and create follow-up actions on the spot. Note a new jazz club to visit when you're at the conference next month. Make notes for your weekly review call with the client. Identify the context such as place, person, or resource needed to do an action, and you'll know exactly what you should be doing when you're in that place, meeting with that person, or have that resource available.
WHAT YOU ACHIEVE
Stress is reduced and productivity is increased by focusing on what's important both HERE and NOW. When you have a reliable, always available system to record everything you need to do or remember, you can put the details out of your mind. You can relax knowing that your system won't forget and you can have it at your fingertips when the time and place are right to get it done. Stop thinking about the things you can't do right now and do the things you can. Stop moving things around on a calendar as your only hope of remembering to do them.
SUBSCRIBE
A subscription provides you with cloud based storage accessable on your phone, tablet and desktop. It allows you to install the app on as many devices as you like and keep all of you data synced among your devices automatically.
Coming spring 2015!
To request a trial subscription, please send an email to trial@maxamind.com
David Allen's book Getting Things Done has been read by millions of people over more than a decade, but mastering GTD® can be a bit daunting without an intelligent tool to guide you. We've built the process in, so the maxamind mobile app makes it easy to implement the five key strategies of GTD® - Collect, Process, Organize, Review, and Do.

The first key step of the GTD® process is collecting all of your thoughts, reminders, tasks and goals into a single, trusted repository that is always with you.

Equally important though is the ability to follow through to process and be able to view those memories when you are in the appropriate context to act on them. The maxamind app starts by making it easy to process and organize while you're collecting your input – three steps ahead.

Many people find it hard to keep up with GTD, especially the Project Review- Process-Organize cycle. The maxamind mobile app makes it easy and natural to collect, process and organize the things you need to do, so you can put them out of your mind and be confident that you will remember them when you are prepared to act.
Because you have one place to keep, process and track it all, you don't have to stress about "have I checked everything" or "do I have everything covered".


Some important paraphrases from David Allen:
• You can't do everything right when you think of it.
• You can't do everything at once.
• Not knowing what you are not getting done causes stress.
• Trying to remember everything you need to do causes stress.
• Writing notes on scraps of paper or lists on your device still causes stress.
• Sticking things on the calendar and then not getting to them causes stress.
Home
You'll see the home screen when you first open the app. Any time-sensitive actions will be shown at the top in the "alerts" section. From here you can start a quick review of Projects or switch to Contexts or use the notebook to record daily events.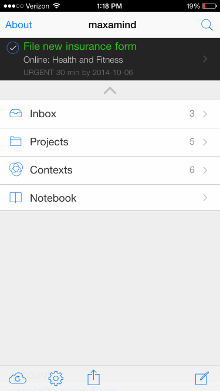 Projects & Contexts
The maxamind mobile app keeps all of your tasks and ideas organized and in your pocket to review whenever it suits your schedule. Record actions and notes by both the Project and the Context - a person, place, time, etc. A quick look at your Context lists throughout the day tells you what you need to do then and there.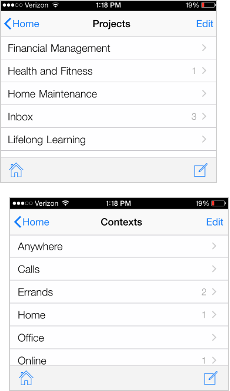 Actions
Record an action as simply as typing a single line of text and then let defaults handle the rest, or when needed, set a due date, priority, time or energy estimate. Assign actions to a Project and place the action in a Context right from the action screen.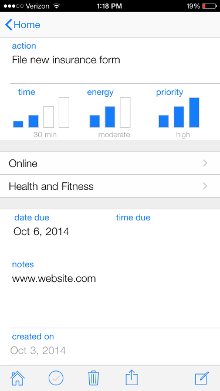 Quick Start
Please click here to view our Quick Start guide
FAQ
Please click here for a list of some frequently asked questions
Surveys
Interested in maxamind and GTD®? Please click here to take a short survey
Current maxamind users please click here to take a brief user experience survey